I wanted post two birthday illustrations at the same time, one on the SFW website and one on the NSFW, anyway for now the NSFW site have all art so both SFW and NSFW so better post it at same time on both places. Anyway it make me wonder if could not better post SFW art only on the soft blog, what do you think?
For now I must continue as I always do and keep the organisation I manage since 7 years and that still work. Feel free if you have some constructive advice or opinion about that but for now would need more work for no impact.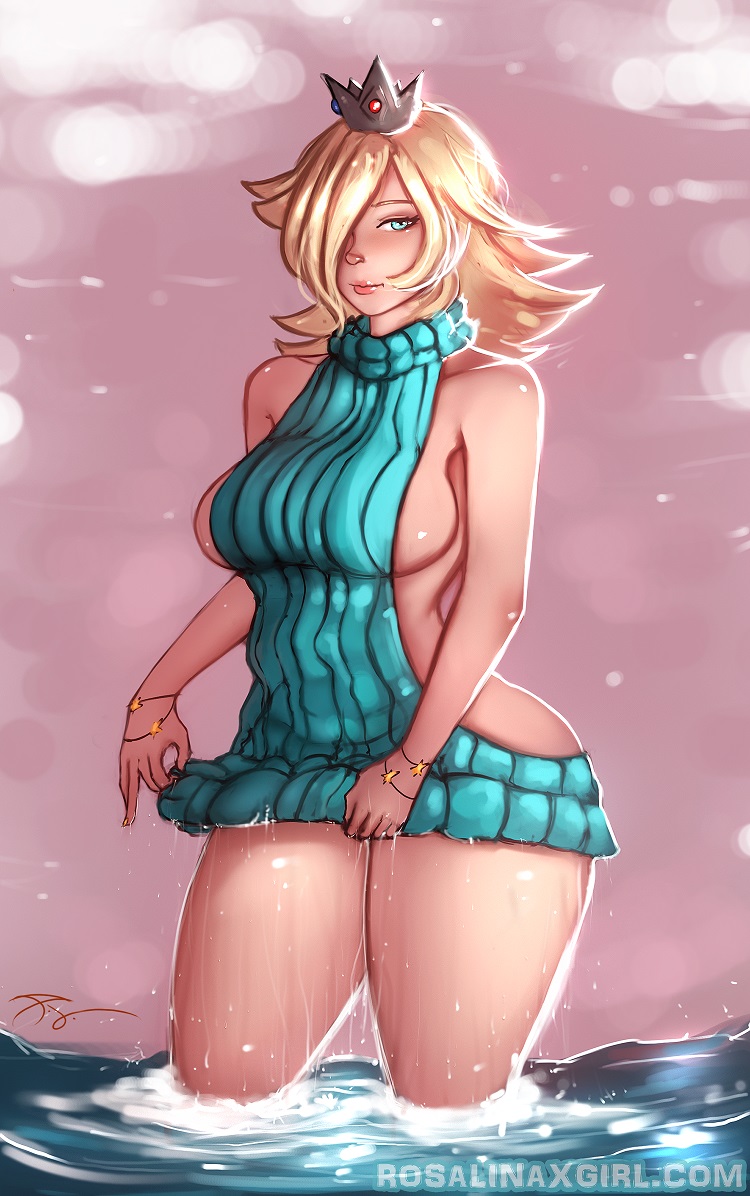 ¯¯¯¯¯¯¯¯¯¯¯¯¯¯¯¯¯¯¯¯¯¯¯¯¯¯¯¯¯¯¯¯¯¯¯¯¯¯¯¯
For today here is a new illustration I received from Delacroix Legion as thanks and birthday present, got several illustration at a moment before his skills (and prices) grow too much for me anyway I still admire him a lot and it's powerfull still get some Rosalina pieces from him. Previous one from Delacroix Legion was a year ago with virgin killer sweater that you can see on left and read full post here.
I love so much the way Delacroix Legion made Rosalina dress for both the gorgeous and sexy look, it looks like mixing an elegant and sophisticates gala dress with tight and see-through erotic lingerie. The pose is really nice, Delacroix Legion picked something not too explicit but offering a perfect view on Rosalina cute face and attributes from those perfect breasts and sweet curves on the back… °w°
And back to the dress, for sure you all noticed two versions with breasts covered and not, though at some points covered isn't the best term to use, I really love that little detail and the way digital allow you play to create clothes variations. Being a huge addict of lingerie not a surprise the see-through dress version is my favourite as if can't deny the naked work better with the dildo touch so Delacroix Legion really had a great idea create both, anyway wich version is your favourite guys?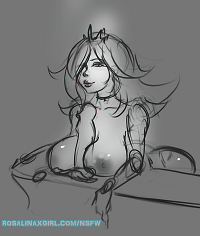 Also can miss to say the dildo was the main element since the first sketch that Delacroix Legion sent me (and you can see on the right). Since this one the main change was on Rosalina arms and some variations on the head cause Delacroix Legion 'wanted to make her face perfect' as he said. The only point that bug me a bit is the crown that seem a bit too much in from and honestly my friend, there is some parts people will focus way more than her cute face… XD
For now I wish keep my friendship with Delacroix Legion but on a more ambitious side hope be able manage get a sexy duo from him probably as commission, he did gorgeous combo with Wii Trainer and his OC that you can find here if you're curious. For now I hope you enjoy this new art and don't miss have a look at Delacroix Legion's profile to see his full gallery, I saw some wip and be sure there is epic pieces coming… °w°

(adsbyjuicy = window.adsbyjuicy || []).push({'adzone':399653});