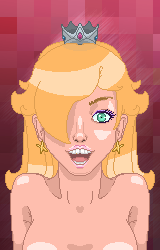 Rosalina birthday is coming so I must prepare myself and find some artists who who can participate, I can't spam only artist who already contribute to the blog, it's not fair, so if you know people who can participate on this blog or for the soft (rosalinaandgirl)… Don't hesitate spam them for me… And last thing, yesterday I received a comment… first somment since 6 months… That's crazy… T_T
I found an old message while sorting my mailbox, a curious drawing by nehmyncolad (also know as Attila) who already drew Rosalina with Yuffie from final fantasy than you can see on the right or see the entire post here.
I love see a lot of artists contribute to the blog, like this I can have a lot of different styles (sometimes bad surprises) but this time, nehmyncolad sent me a really special Rosalina, with a totally different style than her first drawing… An artist… Two styles… That's not powerfull?
I agree it's not a huge quality drawing and a solo but as me nehmyncolad drew the more crazy Rosalina I have now in the blog, first time I see her with this face and smile, it's pretty funny and a little scary at the same time… I know guys she look naked so you can imagine the rest with your dirty mind… I'm sure you're here for that….
I must apologize to nehmyncolad who sent me this drawing in july and a huge thanks for your second contibution to the blog… Due to personnal reasons, nehmyncolad deleted her HentaiFoundry and Deviantart accounts but her Inkbunny page is already alive, it's only furries but don't hesitate to take a look…Oh yeah… XD