Received some new illustrations that I can't wait to show you but not fair to cheat with the queued list and make some artists wait so much to have their illustrations published. Kinky duo or sweet solo must come, also a story with Stella from Winx club series if everything fine but can't say much for the moment so stay turned.
For those looking for a great deal, Mavruda is promoting his patreon offering 5 soft shaded illustration on each tier starting at 10$. Not so many people for now so you can easilly win an illustration that must cost 25$ as regular commission so more than half price. If you are curious don't miss to visit Mavruda's Patreon.
_________________________________________________

Doing mu best to upload the RosalinaxGirl Patreon I also discover some awesome artists on that place offering cool rewards. Some exclusive illustrations and alternative versions but the best are when you can get an illustration as reward, that's the reason I also made a raffle for my patreon. Today a new kinky duo when a submissive kitty Katarina from league of legends by Elixer. Katarina is sure a really powerfull and dangerous figher (I hate her ulti) but when it need to release the pressure she's offering her body and dominating to kinky mistress. Rosalina sure know how abuse to that beautifull kitty and get some fun too, really love that illustration Elixer made.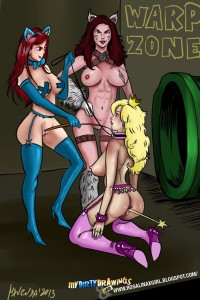 It's the second time I get Rosalina and Katarina together (with Mistigri skin) and must admit this one is my fav skin (and can't deny the sexiest) she got. You can see the other illustration I received on the right and click on it to see the related post. For this new piece Elixer sure did an incredible job, Rosalina so beautifull as sexy with a sensual touch like she slowly underssing using Katarina as seat, Katarina herself into a so hot submissive pet with expressive face to make it even more intense and so many details like the plug or love juice on the floor for a so incredible hot combo. With a little imagination so much can happen with this duo and that's also a powerfull point that make the illustration "alive"… °w°
I hope you like the result guys and be sure to visit Elixer on Deviantart or consider support over his patreon that have many damn hot pin-up and exclusive versions, also with the 20$ pledge you can get a two character pic request like this one and like his level it's sure a great deal. His captive wonder woman is so hot and the messy abused version turn her so damn exciting. As for Katarina seem Elixer love to turn strong woman and fighters into so sexy and naughty situations, be sure you must love it.

One year ago: Chipmunk naughty mistress
Next to come: Threesome with naughty futa ponies (NSFW)