I found a nice and talented artist that I will make you discover about soon with a sweet pin-up. I expected more but I wont be able commission him either, thanks to the help of a friend. I already work so hard to make people know about the project and efforts goes vanished so easily, I wonder if it's to make me understand I have to focus on the project itself and some support/promote artists. I'm really pissed off actually. U_u
What I talk below happened like a week ago and during the time things changed a bit, anyway this paragraph was already written and ready so I keep it like this no because I'm lasy but to keep this as memories. I took several decisions after that and some are already visible on this articles but I'll explain more on the next post.
_________________________________________________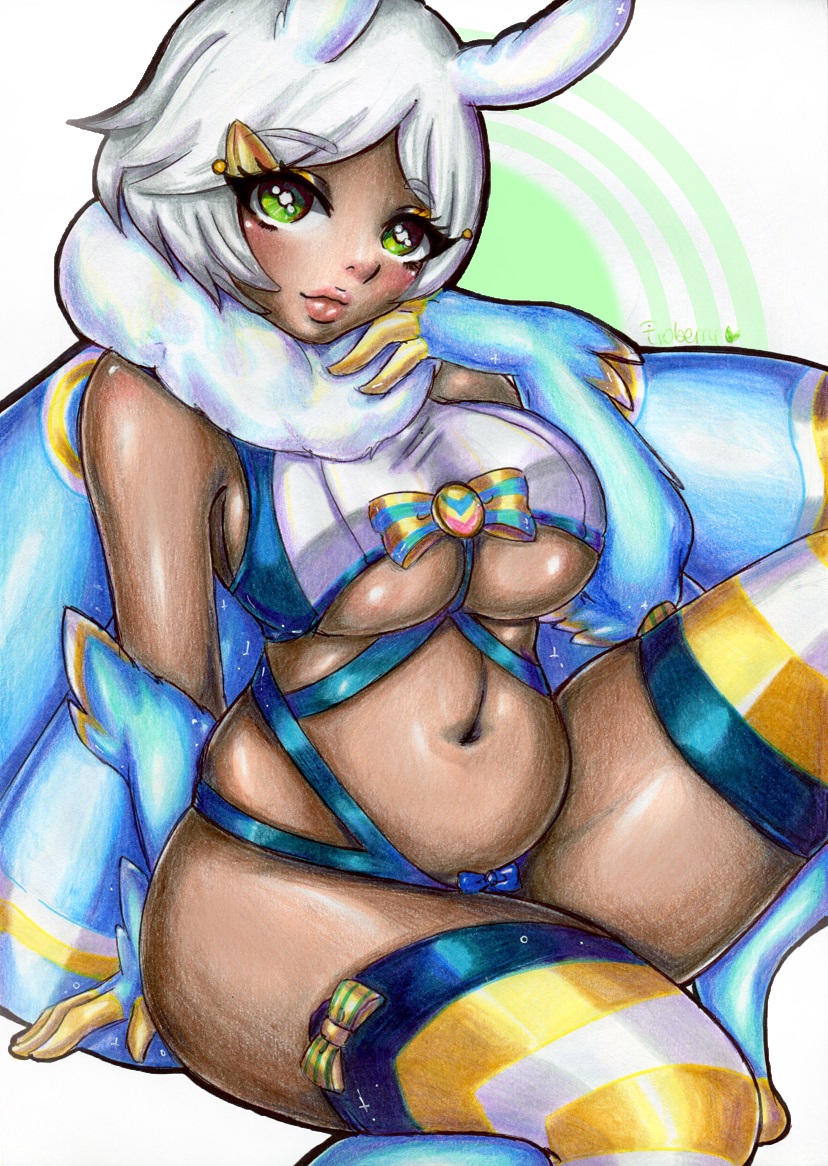 I feel really sad about the delay for this illustration but finally come June patreon raffle reward, the winner of this edition was Ivan and the chosen artist Eberry. No special rules or themes to follow this time but Ivan was really surprising asking 'Rosalina giving a titjob to Vixxy as futa'. First problem was Vixxy is a moth original character owned by C.haos so before commission it to Eberry I had to ask the right to use her character, fact is she allowed me do it only if I 'keep Vixxy a full-fledged female'.
Then I had to talk about it again to Ivan and maybe and change the idea like have Rosalina as futa getting a titjob from Vixxy. I goes with Futa Rosalina only but can't work again after Eberry told me 'futas are completely banned from my art'. I was close ask Ivan go with another idea and duo but wanted to keep his wish and have Vixxy with Rosalina, I decided remove the futa and titjob side asking Eberry to make a sweet duo in lingerie. I hope you like the result… °w°
Anyway if you wish to commission Eberry, you must be really careful about her term of service and commission rules, there is a basic price per character but the price increase for each suggestion or pose on each character, as example if you ask a duo in lingerie you pay the lingerie option for each character. This point was first made to give more freedom to Eberry and I understand her on that point but be careful with limited budget, she's awesome for pin-up but can be expensive if you want something specific and/or multiple characters.
Artist: Eberry / Cost: 30$
(24$ two characters + 2$ panty tease theme + 2$ Rosalina lingerie + 2$ Vixxy lingerie)
www.furaffinity.net/user/eberry