Made a little error sending money to an artist for a commission so he canceled the payment then paypal blocked the money. Officially it's to check the transaction first (don't know what they can check seriously) but it's now more than a week without change. Since I was already charged on my back account I have to wait from the refund. Also already received the finished illustrations and don't want to be as a scammer.. Bwaaaa… T_T
For now I don't use his art as for blog publication or patreon bonus until he get the full payment (and then be ready to be amazed) but be kinda silent don't make me looks wrong, or just that just me who is too much paranoiac? O_o
_________________________________________________
Today here is the first step of a series I had in mind since I played to Bravely Second Demo, I was a little disappointed that it looks really similar to the previous game but maybe must I didn't goes enough far in the story. Already talked about it in fact, I wanted to create a series with Rosalina wearing a dress inspired by all 36 jobs but also mean 36 solo illustration to commission. Finally I decided start it with JamilSC11, she often offer a chibi illustration as bonus with special commissions offer. I already got two chibi by her and was sure most have to come so was a great opportunity start this project with her.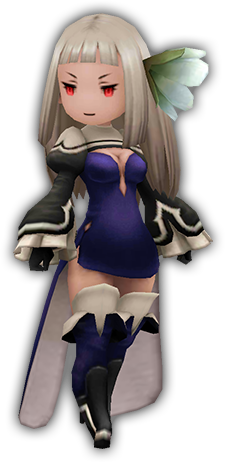 Today here is the first piece JamilSC11 made, Rosalina dress is inspired by Freelancer job that is basically the one all your characters have starting the game and don't offer special attacks. finally a good coincidence because JamilSC11 decided start with this one cause she actually enjoyed the design and the result is ravishing. Rosalina so cute and adorable and it can suit her really nicely as cute princess and also protector of the galaxy, kinda something she can wear while patrolling with her little Lumas (another reason to buy a telescope).
You can see how looks the original dress on the game on Magnolia character, she's kinda particular and surprising but wont tell so more if you plan try the game a day. Original detail with her, sometimes she speak in foreign language, on the Japanese version it's english and in english one it's French, fun to see french appear sometimes on games and movies but JamilSC11 drew Rosalina so you wont be able hear Magnolia for now. Anyway I love how the actual suit looks so close to the original model but looks so wonderfull on Rosalina like it was made for her. JamilSC11 will never stop amaze me so I'm really curious to see how next dress will looks… °w°
I have to admit looking at the reference that the pose for Rosalina is really similar but it don't mean JamilSC11 traced for this one. After all the pose was really good to show about the dress so not cool waste time to make something different since you already have the perfect ref and also if you looks at Rosalina legs it's not the same pose, looking even more better that way to show about boots but chibi design is curious at this point like there is no feet but pointy legs as the pokemon gardevoir. Kinda cruel for a high heels addict as me but that's the rules and JamilSC11 made a sooo adorable piece, thanks so much. Anyway guys don't miss visit her gallery, sexy ladies and adorable chibi live together in her huge gallery (see it here).

One year ago: Water pokemon love soft breast
Next to come: Ying and Yang Cosma Princess (NSFW)