Spam comments are back, luckilly they goes at a slow rate for now so I can manage it without troubles. Curious fact, they only come in the bonus page that is kinda dead since I putted it on the archives list. Also they all start with a short sentence to pick your interest like "Can I call you?" then are filled with unsafe links after that.
Also I know who'll be the artist that will work on December patreon raffle reward available for 5$ patreon members and you'll discover next week about his art. Still not late to join the RosalinaxGirl project patreon to get a chance on the raffle and discover ton of bonus content… Oh yeah… \(^o^)/
_________________________________________________
5 years after Temari it's time for Ino to have a romantic night with Rosalina on this so ravishing and sensual piece piece created by Sasori-sanin, Must admit I focused to much on Temari since she's one of my 10 favs ladies but this time it's Sasori-sanin that chosen to pair Rosalina and Ino Yamanaka from Naruto series, another new ladies and great surprise with this illustration… °w°
Each artist his own style, fetishes and tastes so give some freedom is always powerfull, on one side the artist have more fun on the illustration and on other side you have some suspense for an even more cool surprise, after all if you request or commission an artist as Sasori-sanin it must be since you love his art so can't be disappointed on the result. I love here the mix into cuteness and sexiness, both looking at each other starting from sweet cuddles and each one can imagine how will goes the night. Can be sweet or a little more intense if Sasori-sanin had hidden some little toy behind the bed.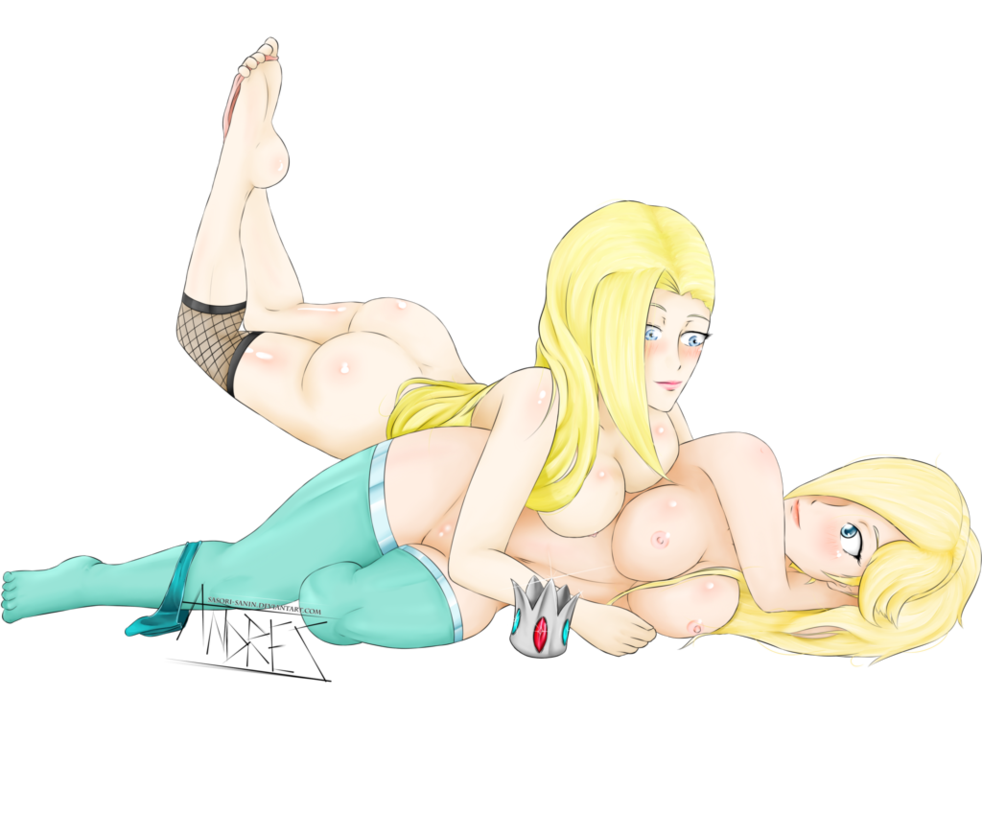 To make it even more intimate Sasori-sanin made a lipstick versions to let us imagine they both exploring each other body gently kissing on way, also some points that can make us imagine some specific scenes like that little series on Rosalina leg where you can imagine the way Ino mouth goes with each kiss closer to that sweet princess pussy. Anyway in my opinion, would be better if Sasori-sanin gave each one a different lipstick color but that's not a big mistake.
Besides kisses, Sasori-sanin putted a also lot of nice details as the bed design and folds, some lingerie on both ladies (love the pantie on Rosalina leg) and the crown is also nice addition don't really suit the design of Rosalina one. Anyway thanks so much Sasori-sanin for this awesome illustrations and guys don't miss have a look at his galleries on Deviantart (here), Pixiv (here) where 'you can watch some pics […] like the progress of some of my tradicional works' or give him some support buying his design on Spreadshirt (here).

One year ago: #566 – Naughty bunnygirl
Next to come: Not confident being too sexy