And here is a new artist of the month, I let you discover BandiJones and his fetish for cunnilingus and high heels. He have many project and wish get the funds to participate in con and sare his passion for art but need some help, that's the reason he recently started a patreon page (here) so don't miss have a look.. ^^
I'm sorry for the previous publication that came a bit late, I was in a trip with friends on Switzerland for 3 day that were sure intense and special. The level is really hight for when will be our turn invite them… O_o
_________________________________________________
The main idea when created the project was to pair Rosalina with 'famous' characters to be sure people will see about the illustration was looking at fanarts, with time I saw so many ravishign original characters that for sure weren't famous but OC also could make a ravishing duo with Rosalina. Already got a lot with Rosalina and today it's a new illustration Mazzacho drew pairing Rosalina's with Kittehskye's OC named Miri.
A little fairy than Rosalina want to see if that cute, tiny and fragile body can be so sensitive as human one using a stem (or bade of grass) softer an smaller than her finger to be more sweet. I'm sure it tickles a little that way and must be intense like the way Miri hold her leaf and antennas moving, I also love the way Mazzacho drew it pressing on her breast and have a sweet curve appear. As you can see that little fairy is really cute with freckles and I'm sure Rosalina wont resit gently press her breasts to see how soft they are… °w°
Mazzacho managed a lovely illustration where cuteness and sexiness mix so nicelyand also where your imagination can play a lot, just imagine all kind of sweet caress Rosalina can give to Miri body, touching and teasing with fingers or even get that huge princess tongue tasting all that sweet body. the tip of the stem can also do more than just teasing and then Miri can also her turn explore Rosalina body with her being curious and tickle that princess body. I'm sorry for Mazzacho that I don't think intended to make something with so explicit meaning but how about you guy? what kind of story you can imagine from this scene?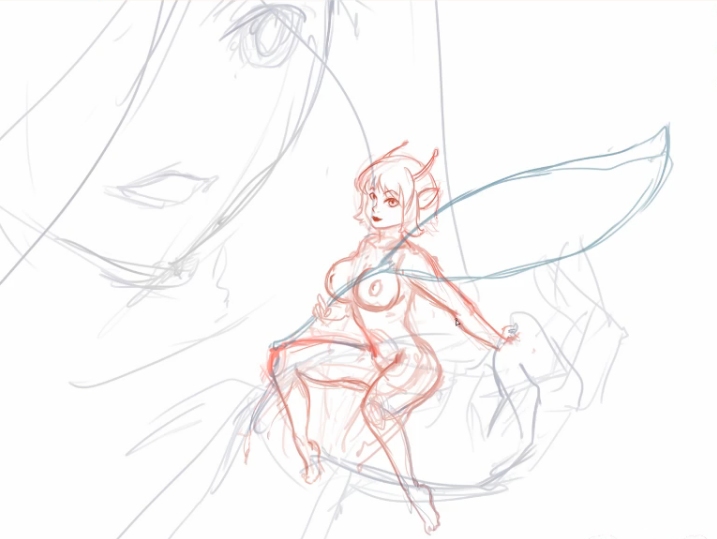 As you can see on the right, Mazzacho was already working on the stem idea but Miri pose was a little different on the first sketch. Being more quiet and sweet that way so I like how she turned more expressive on the final version… °w°
Once again, here is a big hug for Kittehskye and Mazzacho, I'll never regret meet you two. For more guys you can get HD version on my patreon (here) or Mazzacho patreon (here) but no the only thing you can enjoy from this powerfull artist. Feel free visit places listed below to see more about his art, watch him stream maybe your commission… Oh yeah… \(^o^)/

One year ago: #629 – The Birth of Rosalina
Next to come: Narsha private nasty show (NSFW)