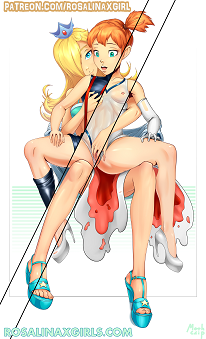 I was talking with a man of patreon who cancelled a pledge before finish it, he was interested by the Rosalina x Misty uncensored illustrations (see post here) but told me it don't worth to pay 5$ for it. People must keep in mind that when you pledge it give you access to all reward from this tier since more than a year, with an exclusive reward for each new publication on the blog there is hundred of pieces to discover on the patreon page.
Anyway I can understand that people may be interested by really specific content so I decided add cheaper packs with exclusive rewards on the shop page, for mow I plan add exclusive art and why not the HD versions in the future if any interested peoples so tell me if you're interested guys.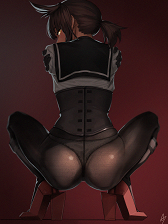 ¯¯¯¯¯¯¯¯¯¯¯¯¯¯¯¯¯¯¯¯¯¯¯¯¯¯¯¯¯¯¯¯¯¯¯¯¯¯¯¯
I'm really interested by WW2 battleships and a big fan of World of Warship game so so you can really imagined I really liked the concept and character design when discovered about Kantai Collection. They kinda remember me the windows OS-Tan but here come with powerfull weapons and skills and no way I can miss that series for my project. Here Rosalina meet Hatsuzuki form Kantai Collection (Kancolle) series. It's the first time Rosalina meet a character from that series and also the first illustration by Kuroyuu-chi (previously Kuroi-tenshi) for the project, so much to discover… °w°
The idea was based on Hatsuzuki illustration on the left made by amino-3, that pose with high heels and pantyhose was so erotic and told Kuroyuu-chi that I want Hatsuzuki exactly that way. Also coincidence, Kuroyuu-chi told me 'Hatsuzuki is my favourite character from the series'. Then the deal was to find a situation where I can add Rosalina and keep the original pose for Hatsuzuki.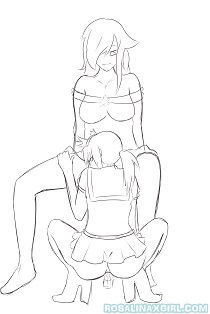 Finally Rosalina ended being Hatsuzuki teacher in sweet lingerie, for sure it sounds so original as the script of a porn movie but I really like the result, Kuroyuu-chi made Rosalina looks so adorable and lovely, also the smooth colour increase that feeling. Also compared to the first sketch, Rosalina expression changes moving from a little smile from mouth open, being an innocent princess I prefer how she looks in the final piece but maybe some of you would prefer Rosalina from the first version Kuroyuu-chi made, so guys, naughty smile or innocent face??
I hope you like this illustration and stay tunes cause there is another duo made by Kuroyuu-chi coming in the future. Anyway if you can't resist see more then you can visit the artist DeviantArt or Pixiv, support on patreon or why not commission your own illustration. Actually Kuroyuu-chi's commission price is 15$ + 80% for extra character for fullbody coloured so it's quite a great deal if you are interested… ^__^
Artist: Kuroyuu-chi / 27$ commission
Tumblr: www.ikuu-chan.tumblr.com
Patreon: www.patreon.com/Kuroyuu
Pixiv: www.pixiv.net/member.php?id=9150155
Deviantart: www.kuroyuu-chi.deviantart.com