I noticed so many coincidences with this post, first that huge edit come with post #777. °o°
As you can notice, there is a huge edit coming with this post, the soft blog hosted on blogger now come at rosalinaxgirl.com url and main site is moved to /nsfw, second coincidence is this edit happen cause Lunakiri that also do today illustration. I had consider this edit since she warned an artist on Deviantart that it's not good link the project according to D.A. policy, the artist removed the blog link that is the only way I have promote the project.
I can't tell Lunakiri was wrong and it's the reason I made this edit but it's always frustrating do something not because you want to. Now with the new multisite version that will be more complex to manage and need more time, so much pages to manage and update on both side but with different content or text so will need even more time that I can't use looking for artists. I also did my best but with more than 800 posts and pages to fix there is many broken links that are still here, please tell me in comment if you find something.
I'll tell you about all changes progressively in upcoming post to don't overload this post and present today illustration. also the 3rd coincidence is Lunakiri is the new featured artist, she's an awesome artist and deserves to be here since I created this page.
_________________________________________________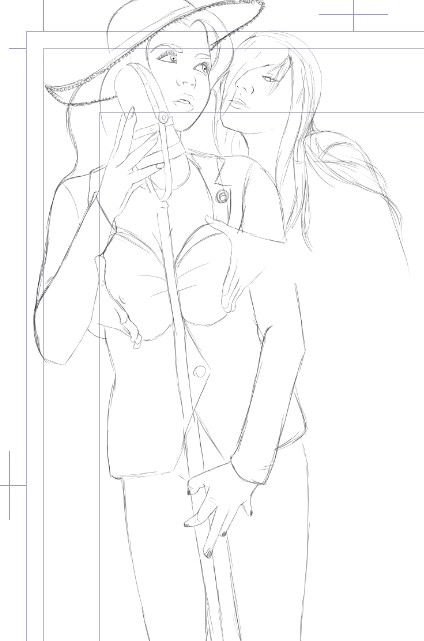 This illustration was a little delayed cause Halloween and Rosalina's birthday post, not at the same time the game was released but time to enjoy a duo with Rosalina and Mayor Pauline from Mario Odissey made by Lunakiri. I hope you like this new sexy but impossible combo since it seems that Rosalina unfortunately don't appear in Mario Odissey. It was enough make me consider get the Switch later but not manage get this duo, when I saw Pauline in the trailer it remembered me a reference post that would suit perfetly and for the busty side you can't imagine how Lunakiri was perfect for the job… ^__^
At first I wanted Pauline breast to be visible but Lunakiri told me this was to hard to manage her coat, I have no wip to show you about that but I know she tried several times and always do her best follow my ideas whatever how stupid or crazy they are so when she told me it's impossible to manage then it must be true. From the first sketch I finally received, it already looked good with the coat closed (I told you she's good with busty things) but what amazed me the most was Pauline expression being so adorable and sensual. As Lunakiri said, 'those lips are so fucking kissable' and I guess a princess already noticed it. °w°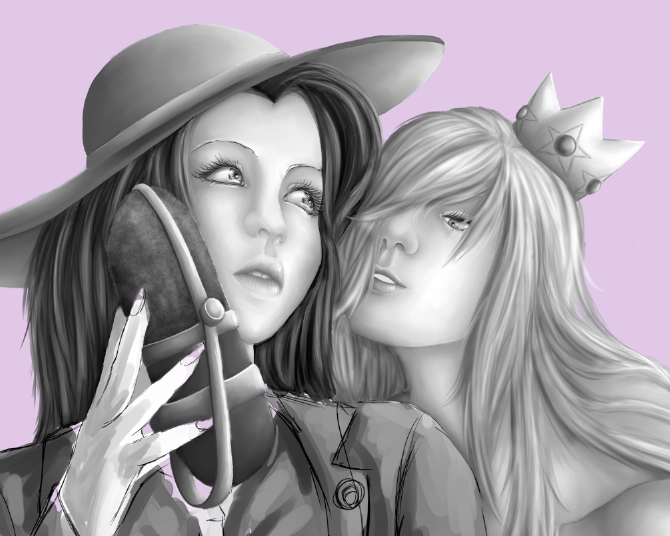 There is also a thing I want to mention is the interesting colouring process Lunakiri used, instead directly use colours as you can usually see, she first painted all with grey shading that wil make the shading effect on the colours added at the end, not sure I'm the best explaining it but you can see Rosalina and Pauline head done in that grey shading on the WIP I received from Lunakiri, be sure she spent hours on this before be able add the colours.
I don't know if Lunakiri will use that shading technique again but it was really interesting to see about and watch during livestreams. October and November are pretty hard for personal reasons but she'll be back soon ready to amaze us so you can already follow her on place listed below and why not consider support her on patreon or ask for commission, she can do cute or sexy art and also simple animation that I hope make you discover about with a fondling piece… Oh yeah… \(^o^)/