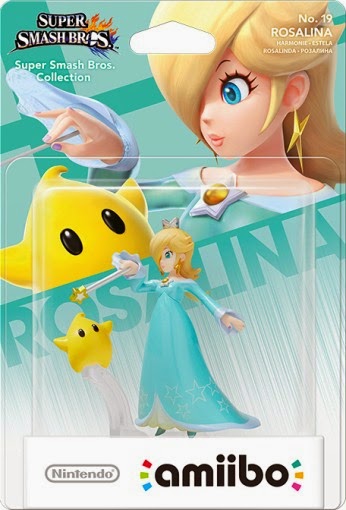 Finally the Rosalina amiibo is open to preorder, you can be sure I ordered two figures (on to open, the other who will keep her box but I must admit I'm kinda scary. I ordered a Zelda amiibo on December and they wasn't able to keep one in a corner for me and I'm still waiting for it since 3 weeks so I hope they wont have this problem with the Rosalina one but you can be sure I'll do my best to have one (or more) for my collection… °w°
Also, I want to make a little collection with a Rosalina amiibo from each country, my biggest problem for the moment is to have one from Japan but can't order or a regular see due to taxes, if you know someone from Japan it must be really helpfull. Thanks guys.

_________________________________________________
Finally able to post the illustration I received from Fyren, was reported 3 times du to Christmas illustrations but fortunately (or not) no special illustration for new year and it's time for you to discover his really original publication. It was after I published August's video that Fyren imagined this illustration, after all I agree that the title of the Rosalina's Delivery Service comic sound close to the title of the Ghibli movie Kiki's Delivery Service and this illustration came in his mind.
I really love Fyren's illustration and idea, it's like Rosalina entered Kiki's universe with naughty ideas (and Luma) to have some fun with her new colleague, more competitor in fact and time for Kiki to learn that business can be rude and dangerous. But Rosalina is not dangerous and prefer to have some fun with Kiki, now she have her universe, her delivery service and a new toy, for sure Rosalina is the best…
I fact I didn't noticed that the title of the Rosalina's Delivery Service comic was so close to this Ghibi movie but in France the title is "Kiki the little witch". In fact Fyren is French too so I feel so stupid didn't noticed it myself but after all, it's impossible to know everything (or I'll be able to have unlimited budget for the blog) and my main is more Rosalina to be honest… XD
Once again thanks so much for your kindness and this excellent piece Fyren and I'm sorry guys that I don't have link for you to show a profile or more of his art. In fact Fyren isn't on site like HentaiFoundry or Deviantart but post generally on Gurochan so you can imagine his art is not so tender in general. After that if you are really curious (and ready) just use his name on rule34.
Artist: Fyren / Cost: 0$ (gift)
No link available, refer to description to find him
One year ago: Solo – Impressive breasts
Next to come: Time for Belldandy to discover a wonderfull princess