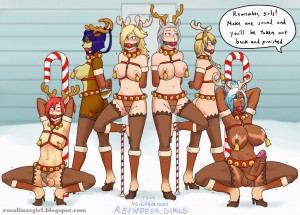 With the actual advertiser on the blog, I earn at last 0.50$ per month (if everything fine). Considering I already have 4$ and can ask for a payment only once I reach 100$, I'll receive my first payment in 2030. As you can see for the moment I don't really count on that to help the blog and will never add pop-up publicity (that's just a huge shit).
Guys, if you want to help me there is many way, you can suggest me artists, buy your copy of Rosalina's Delivery Service comic (actually chapter 2 selling will found chapter 1 production) or simply click on the ad on right part or under the main post. Thanks in advance.
_________________________________________________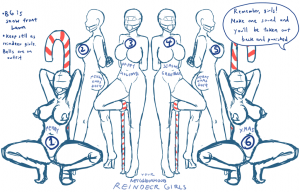 So much publications recently and today it's time for the third and last Christmas related illustration with a really special illustration made by the so talented as surprising xxxx52 (If you think his name is original, just take a look to his gallery). This illustration started by a "Reindeer Girl Auction" on xxxx52's tumblr. 6 slots and the highest bidder of each place gets the spot (you can see the announcement illustration on the right).
For sure the best and hottest are #1 and #6 but was a huge fight for these two slots, I wanted the #3 for Rosalina cause more in my budget in one hand and also it was the perfect place and angle for Rosalina due to her hairstyle. Also tried to get the place #2 for my friend Tallon but lost just before xxxx52 closed the auction,that's so bad but I wont with my auction for Rosalina and she's finally here… (^o^)/
Now for those who are curious about these other ladies featuring from left to Right:
1 – Cothordin's Sasha / 2 – Anon's Sylvia
3 – Nintendo's Rosalina / 4 – Vardemis's Erishkigal
5 – HowToTrainYourDragon2's Astrid / 6 – Cothordin's Qetesh
All are amazing characters and look gorgeous with xxxx52's style, must say Rosalina is the best for sure and it seem a reindeer suit look better on her than a santa one (more original and even more sexy). A perfect body, bondage touch and love that transparent on her panty showing that vibrator dildo. xxxx52 gave us a so powerfull show that I don't want to save her for the moment. °w°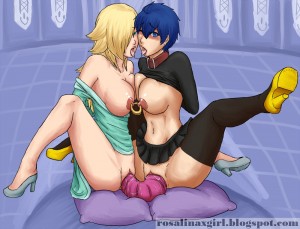 Also, as if the result look epic, it seem this one is not the final version, quoting xxxx52 description "actually a WIP due to temporary dif in equipment. Better-shaded ver in late January" so a new version must come soon. Now if you want more don't hesitate to visit his daily updated tumblr (here) and discover is OC Aik who really have incredible stories and in fact already met Rosalina. I hope you like it guys and congrat xxxx52 for this marvelous drawing. It's just a WIP and look excellent so the final version must amaze us… Oh yeah… (^o^)/
One year ago: X-Mas 2013
Next to come: Rosalina Delivery Service vs Kiki Delivery Service (reported)