100TH ILLUSTRATION ON THE BLOG
AND THIS IS JUST THE BEGINING °w°
The main things visitors will notice from this huge edit is the main site is now totally safe to visit for all ages, I placed a redirecting script on the blogger one to have people move her. Safe to link and safe to share but now you can access the NSFW version from the safe one, it was the opposite before.
Anyway I must admit I still feel disappointed of this new version, feedback would be better but not fun doing something based on what the society and people want you to do instead of what you really want to create. A part of the project originality and spirit for nothing usefull in return, that's life. U_u
_________________________________________________
After his last sweet duo with Aurin girl or more sexy one with demon nurse depending the SFW or NSFW place your see this post, Mazzacho is back with a Victorian dress design maybe for a future cosplay, this was one a little commission and I really like the result. The main idea was a dress open in one side where you can see inside the dress or maybe create another layer with a wave of Lumas, you can imagine that kind of complex design is hard to explain, even more for people that don't know Rosalina so I commissioned Mazzacho to get a visual support.
Now with this illustration I can more easily show my idea and think about the conception process, like my actual level it would need the help of a dress-maker and according to Mazzacho reference create this dress would cost more than 500$ without count the fabric so not sure I'll be able manage this dress a day. At last I have now something ravishing to show you and Rosalina dressed like this would sure be wonderfull, just imagine the side open and galaxy motif on the inside, could looks so incredible, thanks so much fr your great work Mazzacho… \(^o^)/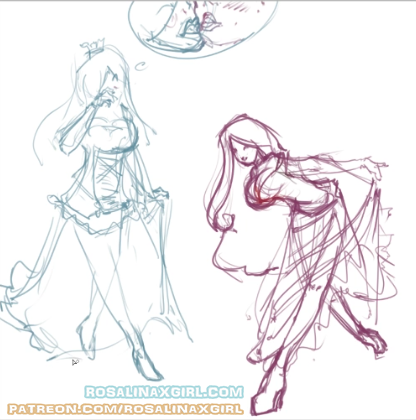 As I said the idea is complex and not easy to explain, even to Mazzacho that started with sketches a bit different scene that I admit as lovely but not what I was looking for. Anyway he quickly understood about my expectation and made a perfect ref so don't hesitate if you wish to commission him, from sketchy to really complex and detailed piece Mazzacho offer great commissions prices. If you are curious just have a look at his deviantart, come talk directly when he goes streaming on picarto or support on patreon, all places listed bellow so don't miss click on them… °w°