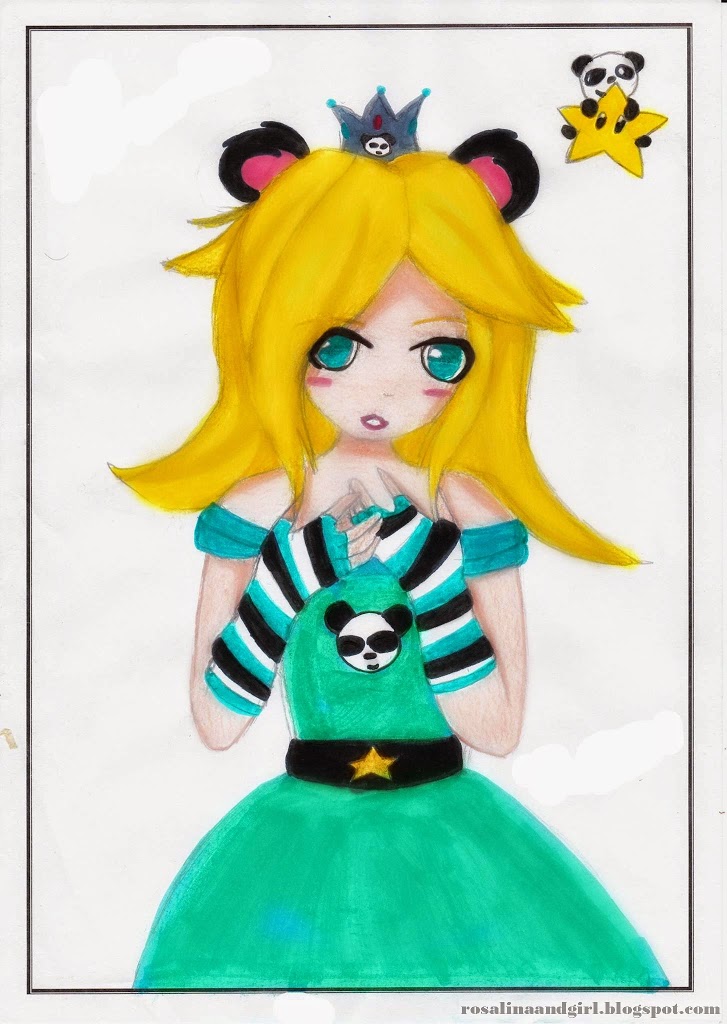 I have in mind to create a project on the blog named "Where is my Pokemon?", the idea is to pair Rosalina with pokemon girls but not in their original form. They must be humanized (Anthro or human form) or as Gijinka (girl wearing a pokemon costum). Artist are free to draw the Pokegirl they want so surprise must come… I hope… XD
As example I already have three illustrations who can work for this project, one with Meloetta (here) and two with Sylveon (1st here) and (2nd here). Mow must create a page to regroup them and have more lovely pokemons with Rosalina. What your opinion?
_________________________________________________
Now while I'm working on this new page time to enjoy an illustration I received for a lovely and kinda talented French friend Alycia, she don't want be believe it but compared to my level she's damn powerfull and she also have the ability to draw Rosalina… Alycia is a goddess… °o°
Explain this illustration will be simple, Alycia is addicted to pandas as me with Rosalina (thought she's not so crazy as me) and proposed me to draw Rosalina, was a powerfull offer for sure and can't resist. She decided to mix our two passions and drew Rosalina with a panda dress. Finally she's not really dressed as panda like I expected but Alycia made a nice and so lovely combo. Love the result.
In fact I must admit there is a little error on this illustration, like Rosalina hairstyle the must have an hair lock hiding her right eye and it don't happen here but not like Alycia completely forgot it cause the lock is here, just don't cover her eye but it's a small error like artist who put it on the wrong side cause they missed that detail or no choice if don't want the hair lock to hide Rosalina's face.
For the moment Alycia don't have a profile on some artistic place like Deviantart but I hope she will continue draw and create a nice gallery a day. For the moment you can still add her as friend on facebook and give her some friendly support. Last thing, Alycia gave me the honor to draw another illustration with Rosalina and Ariel so stay turned… °w°